Version 3 now available!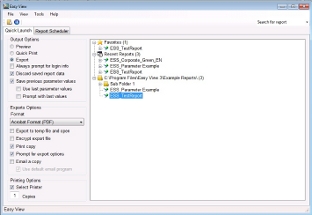 Easy View is a great low cost solution for distributing and viewing your Crystal Reports files (.rpt). It is the only Crystal Reports Viewer you will ever need.
With Easy View there is no need to purchase an expensive copy of Crystal Reports for every person that needs a Crystal Reports Viewer. Crystal Reports is a great tool for analyzing data but most of your personnel don't need a full copy of Crystal Reports. All they really need is a way to view and distribute reports that were already made for them. Easy View does this and much much more.
Of course Easy View can do all the things you expect from a Crystal Reports Viewer and more. Easy View can view and print all of your Crystal Reports (.rpt) files but that is just the beginning. Easy View can also export the report files into many popular formats (PDF, Excel, Word ....). These files can be emailed directly from Easy View.
Unlike other Crystal Reports Viewers, Easy View comes with everything you need in a Crystal Reports Viewer. We don't try to sell you different programs for viewing, exporting, scheduling and emailing your Crystal Reports. With Easy View its all there in 1 convenient program.
One of the most powerful features of Easy View that separates it from other Crystal Reports Viewer is the Report Scheduler. The Report Scheduler can run reports automatically at any intervals you want. This can be as simple previewing or printing a report or much more complex. Easy View can also automatically export a file into the format you want, attach it to an email and send it off to a list of email recipients. What can be easier than that?
Need to integrate Easy View with other applications or schedulers that you have? No problem. Easy View has full command line support which means that it can be activated from any program that can start an EXE file with command line parameters. This means that Easy View can be used with Batch files, Windows scheduler and many other programs.
Not convinced yet? We invite you to test out Easy View for yourself on a free 30 day trial. We know you're going to love it.
If you are planning on using Easy View on a terminal server, check out the terminal server version Easy View TS